Jodo Stage at Vienna with Wil and Kees Bruggink
November, 21st and 22nd 2015
Another wonderful stage with Kees Bruggink Sensei, assisted by his wife Wil, took place in Vienna. We chose the theme "Ichi Go Ichi E", beautifully calligraphed by Kees Sensei. I like this motto, because it reminds us that every moment is special. No matter how often we meet, it will never be the same. Treasure the time we have and make the most of it. Kees Sensei reminded us, that it also means to keep an open mind. You are here, now, at this seminar. Be open and accept the comments and help offered by the teachers. Step away from automatism and challenge yourself to do thing as they are demonstrated.
As always, we concentrated first on Uchi Komi and Kihon. Kees Sensei put the emphasis on the working of the hips in relationship to the weapon and the arms. We also had a look at the role of Uchidachi in the basic exercises, which is often enough overlooked. It was interesting to see the importance of a good sword for the progression of jo also in the basics. Concerning Kata, the focus was on the Kage series, as well as Ran-Ai, Kenjutsu and Okuden. Less advanced people were training according to their level and we were happy to again have Wil taking care of them. With a teaching style focused on individual corrections, it is especially good to have a second teacher present. Since there were little interruptions for the entire group, the training sessions were quite intense.
We had a good group of participants ranging from beginners in Kihon up to people already training for almost 30 years. Two Nidan examination were passed successfully. Congratulations go to Roland and Michi.
Thanks go to the participants - we are happy to have faithful guest joining us every year, as well as some newcomers. Without your efforts the seminar wouldn't have been as enjoyable. And a very big thank-you to our teachers, your patience, knowledge and good humour is very much appreciated.
We hope to see you again next year, ヘルガ (for the VJK Ronin Wien)


Participants coming from: Nederland, Italy, Czech Republic, Hungary, Switzerland, Russia and Austria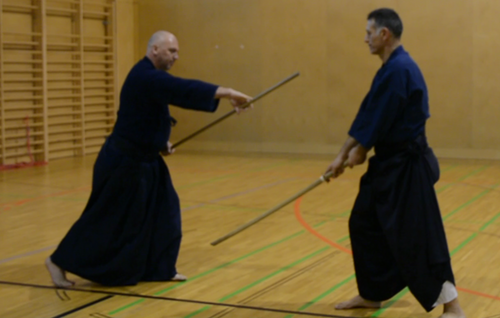 ---
---