Summer Gasshuku Mâcon 2018
23rd to 27th of July 2018
Alain Robert, his club Ki Musubi and the European Jodo Federation organized a one-week summer school of Jodo in Mâcon, starting on July 23.
There were about 20 participants from France, Switzerland, Russia, Finland, Italy, the Netherlands, and Czech Republic. The seminar was lead by Alain Robert and Fred Quant (both Menkyo kaiden) together with Laurent Subilia (Gomokuroku) and Patrik Orth (Shomokuroku).
We started every day by a training without weapons prepared by Alain. In addition to Jodo, he also studies Qigong and he gave us an opportunity to explore ideas on the ways how to move and the connections between the two disciplines. Morning and afternoon trainings were then devoted to the techniques of Shinto Muso Ryu Jodo. Naturally, we spent time on the fundamentals, training kihon tandoku and sotai in two morning blocks. During the first two afternoon blocks, we practiced Omote waza. Afterwards, the participants split according to their level (the less advanced participants continued under Alain, while the rest trained with Fred). We managed to go in detail through Chudan, Ran-ai and Kage waza.
We performed a public embu on Thursday in the late afternoon, and we held exams for kyu grades on Friday. We finished the seminar all together by a training of Kenjutsu. I believe all participants gained something from the seminar and everyone enjoyed the trainings despite of the very hot weather.
Patrik Orth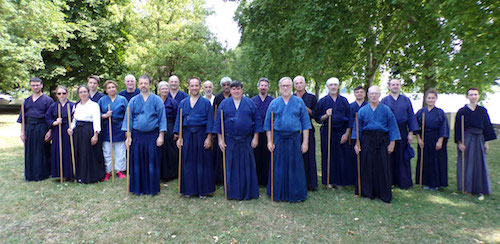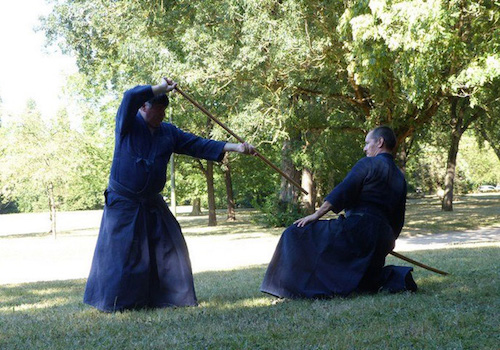 ---
---