Pylypets (Ukraine) AikiFest
July 2017
A 5-day seminar of martial arts "AikiFest 2017" took place in Ukraine (Pylypets, (Zakarpattia Oblast) starting at Monday, July 3, 2017. The main part consisted of Aikido seminar lead by Dominique Pierre (6. dan). However, the program of the seminar also included Jodo trainings, lead by Patrik Orth with Renata's assistance. In addition to aikidoka from Uzhgorod who organized the seminar, the trainings were also attended by jodoka from other places in Ukraine (Zaporozhye and Donetsk). As usual, it was necessary to divide the trainings depending on the level of the participants. Beginners practiced the basics, the more advanced people also katas of Omote and Chudan waza.
Original plan was to have two Jodo trainings a day, alternating with trainings of Aikido, Iaido and Kenjutsu lead by Dominique. In the end, we added further trainings before breakfast and in parallel to Aikido trainings, so instead of 2.5 hours a day, we trained for up to 5 hours. We practiced both under the hot sun and in rain and enjoyed the fresh air and the panorama of the Carpathian Mountains.
In addition to trainings for both adults and children, the program of the seminar included activities for non-practicing attendants and relatives. The program culminated in a night-time celebration of Kupala Night (Feast of St. John the Baptist) accompanied by martial arts demonstrations.
On behalf of the local organizers, I would like to invite everyone to the future meetings in this mountain area near the Shypit Waterfall. I highly recommend a visit to this place to any lover of nature and adventure, especially in the week when both AikiFest and hippie festival Shypit are organized here. It is a great place to rest, breathe, eat, drink, and enjoy the hospitality of the local people.
Patrik Orth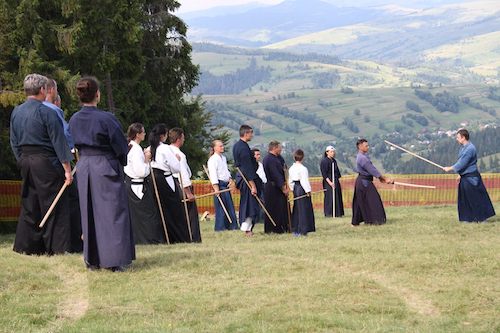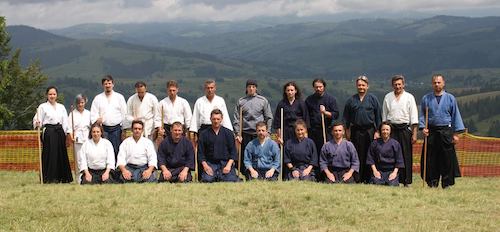 ---
---