18th Gasshuku in Würzburg
20th and 21st June 2015
As every year, our already traditional Gasshuku could again be organized in Würzburg. For personal and professional reasons many people could not participate. However, this allowed us to work more intensively with both Michel.
This year, practitioners came from Austria, Switzerland, the United States and the Czech Republic. And as usual, we started training on Saturday morning at 6 a.m. with warming-up exercises as well as basic movements. At the request of the majority of the participants, we focused on the handling of the sword.
Unfortunately, the weather played a trick on us this year. Unlike previous years, we had to train in a large gym, because it was raining on both days. The only advantage was the fact that we have been spared by mosquitoes this year.
As usual, on Saturday night we went to a restaurant not far from the training site where we were able to enjoy specialties from the region. The next day, a successful exam took place. Alexander Garchstetter from the Munich group passed his 2nd Kyu. Congratulations!
Apart from Jo, participants also had the opportunity to practice the Tanjo series.
I would like to express my thanks to Franz Scheiner who - as every year - organizes this Gasshuku. Unfortunately, the two persons who prepare our breakfast on Saturday and Sunday morning were unable to come this year.
Personally, I participated at this Gasshuku interrupted by frequent breaks because I have not yet fully recovered from the surgery that took place in late March. But it's getting better and better!
I would be pleased to repeat this next year. And maybe with some more participants.
Matthias Wenderoth, Oku-iri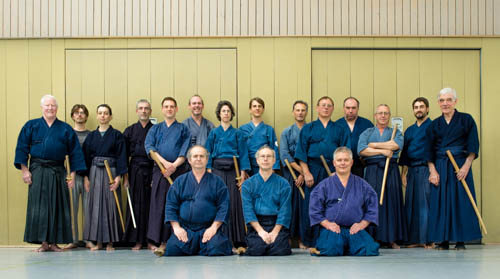 ---
---