Jodo Gasshuku in Zlin
11th and 12st of April 2015
The 19th Shinto Muso Ryu jodo seminar with Fred Quant (Menkyo Kaiden) in Czech Republic was held during the first "real" spring weekend in Zlin, on April 11-12, 2015. There were 27 participants from Czech Republic, Slovakia, Hungary, Germany, Russia, Lithuania and the Netherlands of course.
Despite the somewhat lower attendance than in the preceding years, we greatly enjoyed the training under the supervision and instruction of our teacher as well as the atmosphere of the seminar. As usual, during the morning and afternoon practice on Saturday and the extended morning practice on Sunday, we trained especially the basic techniques and katas of Jodo. The focus of this seminar was on kiai and kime. With the assistance of the advanced participants, Fred demonstrated all the techniques and pointed out our mistakes and deficiencies.
We practiced katas from omote to chudan and ranai and further on depending on the levels of the participants. A large part of one of the blocks was devoted to katas of Shinto Ryu Kenjutsu and of course to drills (uchikomi). On Sunday, eight of the participants took exams for kyu grades, all of them successfully.
Patrik Orth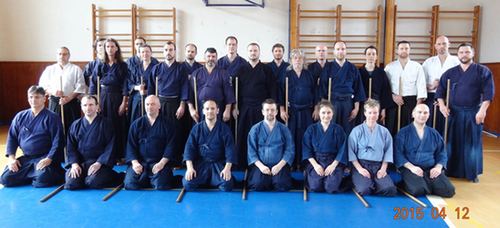 ---
---