Jean-Pierre Pahud
Shintô Musô Ryû Gomokurouku, IJF Chuden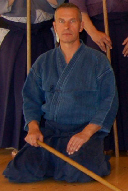 Jean-Pierre Pahud
Born on: 6 mai 1958
Origin: Geneva, Switzerland
Profession: Social assistant

Addresses
33, rue du Temple
CH-1236 Cartigny
jeanpierre.pahud_AT_gmail.com
Next seminar
Budo Curriculum
When I was adolescent I used to practice several sports like many of us. In particular between 14 and 22 years old I did ski competition on a regional level. Later on, my vocational training and my personnel career allowed me to approach different traditional or therapeutic psycho-physical practices.
I discovered the Japanese martial arts at Shung Do Kwan in Geneva and practiced Yoseikan Budo from 1978 to 1983.
And in 1984 I was eager to practice Taiji Chuan. I teach Taiji Chuan since 1986.
In 1987, I started again Yoseikan Budo. Looking for a more esoteric practice, and while a friend of mine was attracted by Jodo and I was attracted by Iaido, we started together these two disciplines with Pascal Krieger at Shung Do Kwan in fall 1987. Since 1992, I concentrated my study on Shinto Muso Ryu Jodo. In 2004, I started again Iaido.
Important encounters:
Pascal Krieger Sensei from l987 on until today.
M. T. Shewan Sensei in 1992 during the annual EJF Gasshuku in Geneva.
Nishioka Sensei in 1996 in Geneva
Quintin Chambers Sensei in 2000 during the IJF Gasshuku in Columbus
Yahagi Sensei in 2009 in Geneva
Kaminoda Sensei in 2009 in Tokyo
Grade:
Shinto Muso Ryu Jodo: Sandan in 2005 during the IJF Gasshuku in Vercorin
Muso Shinden Ryu Iaido: Shodan in 2006 during the European EJF Gasshuku
Classical certificate: Jodo Oku Iri by Pascal Krieger in 2005
Appointed Shoden teacher EJF and IJF by Pascal Krieger in January 2011
He received his Shô-mokuroku certificate during the summer camp 2013.
He received his Gô-mokuroku certificate during the winter camp 2022.
---
---