Jean-Louis Martin
Shintô Musô Ryû Shomokuroku, FEJ Shoden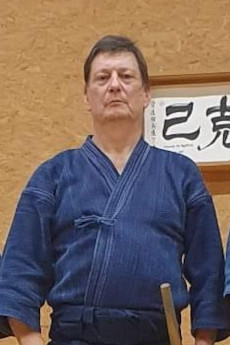 Born on: August 28th, 1962
Origin: Dijon, France
Profession: Cook
Address:
Budô Curriculum
1984 :
Discovery of Aïkido at the Lausanne Budokan with Didier and Christine Venard.
1st encounter with Ikeda Sensei.
1st encounter with Tamura Sensei during a seminar in Novara (Italy),
Practiced Aïkido for 6 year.
1993 :
Arrival at the Geneva Shung Do Kwan.
Starts Iaïdô then Jodô with Pascal Krieger Sensei.
1995 :
Encounter with Nishioka Sensei.
Obtains FEI 1st dan during the Geneva seminar.
Attends several seminars such as les Îles de Lérins (France) or other european seminars of the Jodô federation.
1997 :
2nd dan Iaïdô FEI at the Geneva seminar.
1999 :
Obtains the 1st dan in Jodô, at Lillsved (Sweden)
2001 :
3rd dan Iaïdô FEI at les Îles de Lérins.
2003 :
2nd dan Jodô FEJ.
2007 :
4th dan Iaïdô FEI in Geneva.
3rd dan Jodô in Kacov (Czech Republic) and receives Okuiri.
2009 :
Meets Yahagi Sensei in Geneva. Starts practicing Ryushin Shochi Ryu Iaïjutsu.
2017 :
Receives the Shomokuroku at the Tirrenia (Italy) seminar.
2021 :
Opens a Jodô course, at the request of Pascal Krieger Sensei, at the Dôjo de l'Etang in Vernier (Switzerland).
---
---