Yves Galley
Shintô Musô Ryû Gomokuroku, IJF Chuden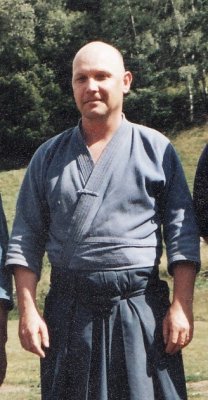 Yves Galley
Born on : 13 February 1965
Origine : Fribourg, Switzerland
Profession : Biology teacher

Address
Yves Galley
Rue de la léchère 73
1630 Bulle

Next seminar
Budo Curriculum
Started martial arts at the age of 14 by practising karaté shotokan, 1st Dan.
After his meeting with Séverin Corpataux, he starts to practise Jodo in 1988.
He meets Pascal Krieger in 1992 at the 1st seminar in les Paccots.
1st Dan in jodo in 1993.
3rd dan. in 2001.
Received Oku-iri in Sevenum (Netherlands) in 2002 .
He is named IJF Shoden in 2007
Received the Shomokuroku certificate and the IJF Chuden license in 2011 during the Kagami Biraki
Received the Gomokuroku certificate in 2016 during the summer camp.
---
---