Jodo Gasshuku in Zlin
9th and 10th of April 2016
On April 9-10, 2016, we organized in Zlin the 20th seminar of Shinto Muso Ryu Jo in Czech Republic, lead by Fred Quant (Menkyo kaiden). The seminar was attended by 30 Jodoka from Czech Republic, Slovakia, Hungary, Germany, Lithuania, and Switzerland. Registered participants from Ukraine were unfortunately unable to attend due to visa issues.
Fred visits Czech Republic regularly since November 2002. His first seminar here was for just a small group of beginners without any experience. Throughout the years, the seminars grew together with the development of FEJ groups in Czech Republic and the neighboring countries, both in the number of participants and in the level of their practice. In the last few years, the size of the seminar stabilized at the current level and the whole Jodo curriculum from Omote waza to Okuden is being practiced.
Despite the this years stage being an "anniversary" one, we decided the organize it as usual and just enjoy the training; and I am happy to tell that the plan succeeded. We met and practiced as well as we could. In four training blocks, we practiced all the Jodo has to offer, shared the experiences and gathered new ones.
The main point emphasized by Fred this time was ki-ken-tai, harmonizing your energy and power with the motions of your body and the weapon, showcasing this concept on a number of examples. As usual, we practiced all together for a part, and split into groups according to the level of advancement for a part.
Most of the curriculum was demonstrated, so that even the beginners could see the katas that they do not yet practice. Some of the participants learned a new kata and the others consolidated their current knowledge.
After a nice dinner and beer on Saturday evening, we continued the Sunday trainings in a similar spirit. On both days, Fred carefully corrected our mistakes and readily answered our questions. At the end of the seminars, we held exams for kyu degrees. This year, all the examinees passed, and as usual, received useful recommendations for their future practice.
The next seminar in Czech Republic will be held the next year.
However, we will have an opportunity to meet Fred already the next month in Padova, or a months later at a seminar in Amsterdam.
Best regards, Patrik Orth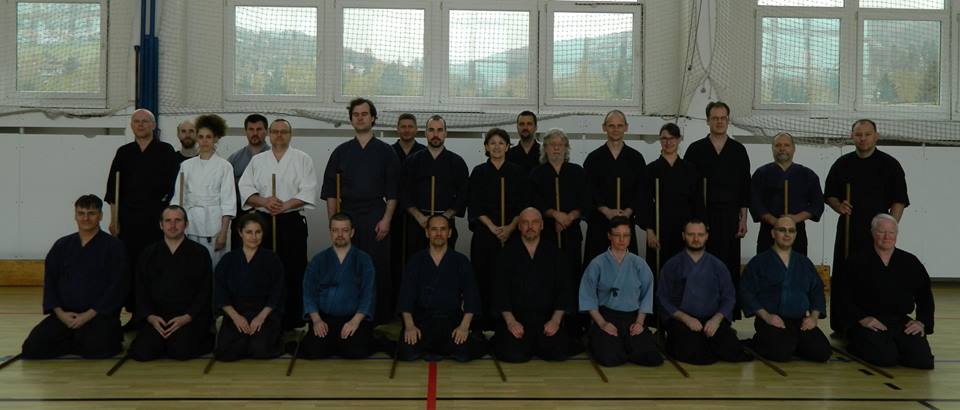 ---
---