Jean-Claude Hamel
Shintô Musô Ryû Gomokuroku, IJF Chuden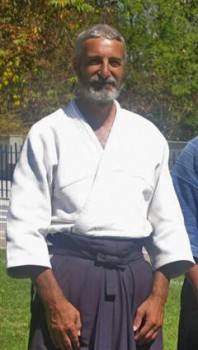 Jean-Claude Hamel
Born on : 23 august 1952
Origine : Paris, France
Profession : Retired

Addres
Jean-Claude Hamel
359 Chemin de Crémat
06200 Nice, France
Tel. 06 09 81 52 62
Next seminar
Important meetings and moments
1978: Initiation to Philosophy and Theravada Buddhism during a journey through Asia. Stay in a Buddhist monastery (Kanduboda) in Sri Lanka. Meeting with K Seevali Thera (meditation monk instructor).
1986: Beginnings in Nice, Aïkido, Iaïdo and Jodo. Meeting with my first teachers in Budo, Dominique Boetti and Daniel Leclerc.
1987: Meeting with Pascal Krieger, the Budoka... then the man...
1991: Meeting with Quintin Chambers in Penang, Malaysia. 1st dan Jodo SMR.
1994: Meeting with Tsuneo Nishioka in Hawaii.
1999: 3rd dan Jodo SMR in Lillsved, Sweden.
2002: Oku-Iri SMR Jodo in Sevenum, Holland.
2007: Shoden IJF.
2011: Received the Shomokuroku certificate during the Kagami Biraki.
2016: Received the Gomokuroku certificate during the summer camp.
Miscellaneous
Loves to travel
Practises naps seriously
---
---